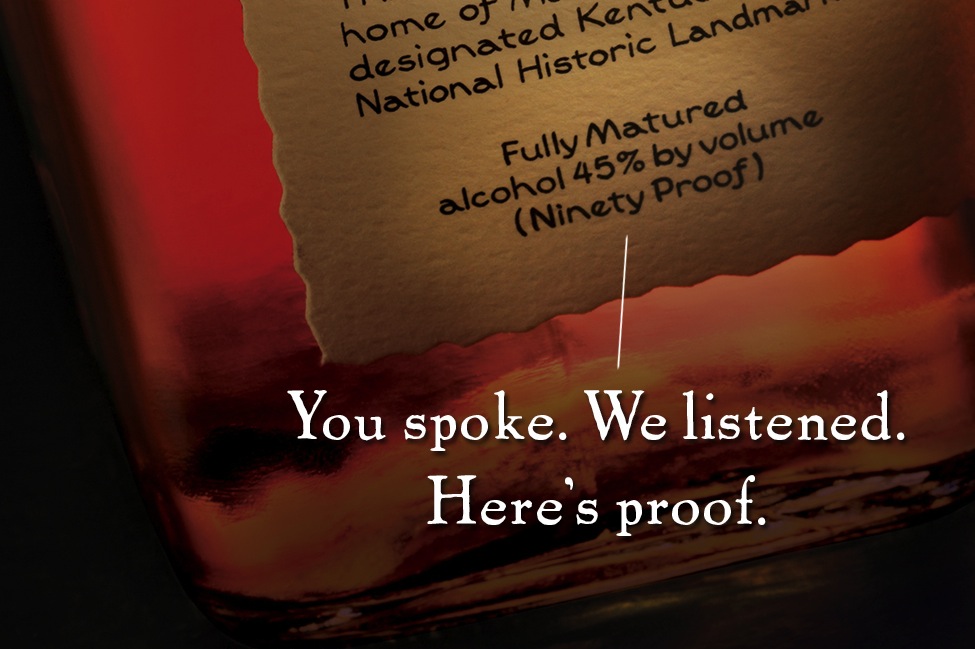 Maker's Mark is the latest company in a growing line of companies to succumb to social pressure to change its business decisions. Rather than drop the proof of its popular whiskey by 3% from 90 proof to 84 proof to meet "increased demand," the company announced today (2/17/2013) that it would back off in the following letter posted to the company website:
You spoke. We listened.

Dear Friends,

Since we announced our decision last week to reduce the alcohol content (ABV) of Maker's Mark in response to supply constraints, we have heard many concerns and questions from our ambassadors and brand fans. We're humbled by your overwhelming response and passion for Maker's Mark. While we thought we were doing what's right, this is your brand – and you told us in large numbers to change our decision.

You spoke. We listened. And we're sincerely sorry we let you down.

So effective immediately, we are reversing our decision to lower the ABV of Maker's Mark, and resuming production at 45% alcohol by volume (90 proof). Just like we've made it since the very beginning.

The unanticipated dramatic growth rate of Maker's Mark is a good problem to have, and we appreciate some of you telling us you'd even put up with occasional shortages. We promise we'll deal with them as best we can, as we work to expand capacity at the distillery.

Your trust, loyalty and passion are what's most important. We realize we can't lose sight of that. Thanks for your honesty and for reminding us what makes Maker's Mark, and its fans, so special.

We'll set about getting back to bottling the handcrafted bourbon that our father/grandfather, Bill Samuels, Sr. created. Same recipe. Same production process. Same product.

As always, we will continue to let you know first about developments at the distillery. In the meantime please keep telling us what's on your mind and come down and visit us at the distillery. It means a lot to us.

Sincerely,
In the not-so-distant past companies freely made business decisions in board rooms and the customers had no option but to either to comply or change loyalty. Those days are quickly coming to an end. Netflix's Qwikster decision, Chick-fil-A's CEO Dan Cathy's comments on same sex marriage, and most recently Instagram's change in Terms of Service each raised similar social storms despite different outcomes.
Social media provides a hotline directly into the corporate board room, and if the customers or users don't agree with a decision, they will use their virtual calling tree to blast the hotline. This undoubtedly puts the consumer in a powerful position to have an equal footing with the companies dictates. I'm not sure, however, that the results are always right. Mob mentality has proven throughout history to make poor decisions.
On the first day of my digital media marketing class this semester, I raised the question of whether the age of the 'empowered consumer' is a good thing. While 80% of the post dealt with other aspects of social media, nearly all of the comments focused on this issue and most agreed that it hampered good business decision making–now, granted this is a business class.
The line between consumer feedback and the democratization of business decisions is becoming increasingly blurred. Now, the consumers have a seat and vote at the board room table that decision makers cannot ignore. Â A case can be made for both the merits and the flaws of such consumer empowerment. What do you think: is the consumer impact on business decisions good or bad?