News that rides on the rails of social media can sometimes jump off the tracks. The past six weeks have raised serious questions about social media's role in misinformation and the mainstream media's eagerness to report outweighing their duty to verify.
Granted, my journalism training consists of a crash course gleaned from the first season of The Newsroom, but it seems that the news business has two extremes balanced against one another.
Everyone is in ratings a race to be the first report
You must have 2 reliable sources before reporting
BREAKING:Confirmed flooding on NYSE.The trading floor is flooded under more than 3 feet of water.

— ComfortablySmug (@ComfortablySmug) October 30, 2012
The following day, this apology was posted on ComfortablySmug's Twitter account: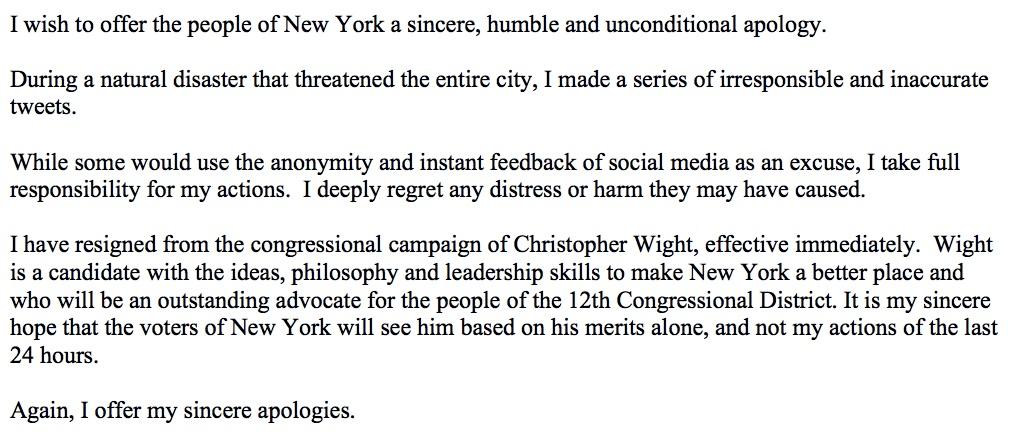 Then, again last week in the swirl of misinformation that was reported before verification during the Sandy Hook Elementary massacre, the details were grossly inaccurate including the
Identity of the shooter (Ryan first and later correctly identified as Adam)
Mother, Nancy Lanza's profession (first reported as the teacher at the school)
The father's murder (first reported to be at the "apartment" of Adam Lanza)
And then, several sources pointed to the wrong individuals on social media:
so aperently im getting spammed bc someone with the same name as me killed some ppl… wtf?

— Ryan Lanza (@Ryan__Lanza) December 14, 2012
Within 10 minutes, this tweet was retweeted 10,000 times and his followers grew from 20 to 5000. Later in the afternoon, when it was discovered that the shooter's real name was Adam, @Adam_LZ's twitter account suffered the same reaction:
I have absolutely no relation to Adam Lanza or the shootings so please leave me alone. What happened is sad enough as is.

— Adam LZ (@Adam_LZ) December 14, 2012
In both cases hurricane Sandy and Sandy Hook, the question has been raised, "should social media contributors who spread misinformation be prosecuted?"
It seems like common sense that spreading information on social networks should be accurate, but we have a brigade of armed citizen journalists on the loose that have little training and understanding of the legal ramifications of "publishing" information. There is no crash course in "how to use your twitter account with social, moral and legal responsibility." While traditionally, publishers have been such a narrow slice of the global population, in the past 10 years we have increased the number of citizen journalists to at least 1/8th of the global population (number based solely on active Facebook accounts). While they are armed with the press, they have little understanding for the ramifications of its use.
I am going to start a series over the next few weeks that investigates the responsibilities that one has when using social media, but I'm curious, what do you think? Should there be a greater accountability applied to journalists than individuals? If one holds themselves out as a citizen journalist, should they enjoy the same privileges afforded to journalists?