There's few times in one's life when we cross paths with someone that possesses sage insight. Sometimes when we do, we're not sure whether to admit them or worship them because they just don't fit squarely in our world. History, however, is quite kind to the wise men by telling and retelling their stories. Let me tell a little story about a brush with one such man in an unlikely container.
I am lucky enough to know one such fellow, and his name is David Legg. About thirteen years ago, I met David at a "play" retreat that my brother was hosting in Townsend, TN. He had literally come down off the mountain to join this retreat. David had been a self-admitted hermit in the Cumberland Plateau for some time, and had decided to rejoin the world.
I'm not sure what one learns in the solace of the mountains, but I can assure you one unlearns the arbitrary niceties that we call "proper." At this particular retreat, David could play with the best jesters and dance with the levity of a child. His bellowing laugh was that of fiction.
On the last day of the retreat as we were going around the circle talking about our experience, David stood, smiled and made a disclaimer, "what I'm about to do may make you mad and it may cost me a cleaning bill, I assure you I'm good for it." And he took a bottle of oil and poured it on my mom's head until it poured over her head onto her blouse. If proper had a face, it was my mom's, and if fear had a face it was mine as I observed my mom's "untouchable" hair wither to the flood. But, in that moment, something amazing happened. My mom shared a hearty laugh with David, and she joined in the rhythm of play.
David came down from the mountain only to go up to Top of the World. Months after that retreat David moved among throngs of people and became part of the Spring of Light community. David brought what appeared as rustic wisdom to a civilized world. During discussions he addressed the root of of the human connection issue while the others in the room were chasing rabbit trails of convention. After the conversation had reached a natural pause, David would chime in "Methinks it funny that we all try to rise like the mighty oak, yet we never want to enter the winters of death." With brief, densely packed whips, his observations sometimes seemed from another land or another conversation depending on how you heard them.
Over the years, David dribbled out bits and pieces of his past. We learned of his career as a Science teacher, a bit about his children, and his broken marriage. For as many questions we had, there were vague answers and clever tidbits that sent us back to reflect on our own lives. David never wanted the eyes on him, he reveled in the subtle dance of conversation with others, and he could certainly dance that jig.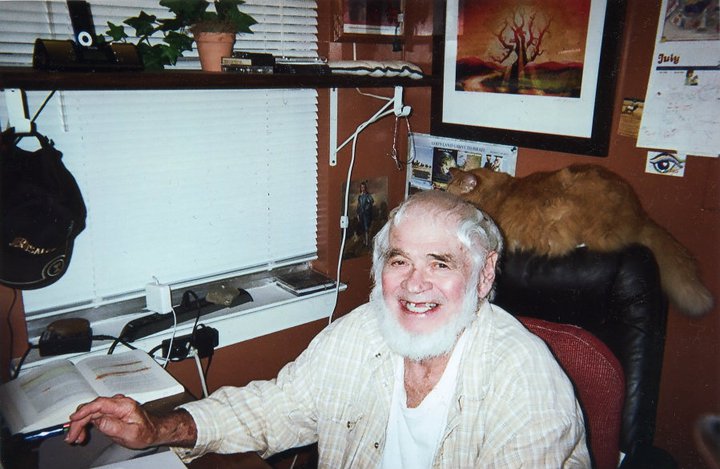 Smog-filled skies and a pinch of lung problems ultimately led David off the mountain again to rejoin his family south of Chattanooga, where he lives today. While he only travels occasionally, he shares his beautiful heart and mystery with the world everyday through his Facebook interactions. With arresting additions and clever comments, David has come from the solitude of one man on the side of a mountain to become a citizen to one of the largest populations in the world, and he uses it with childlike ease.
One thing is undeniable, David carries his faith like a banner, yet it's clear that there is inexplicable love behind his faith. We talk of "coexistance." David doesn't compromise any aspect of faith, yet he loves everyone he engages. It's a faith that falls short of the hallmarks that I've known: no religion, no judgment, no "call to action." His words and his insights fall on the page with passion and conviction with no other purpose than to engage. I can just picture him giggle as he pens the clever comments.
While most of us are firing off political torpedoes and "innocently" sharing our extravagant lives, the man from the mountain sees the Facebook landscape as a giant playground to genuinely laugh and play with others. As he skips through posts and comments, he drops magical laughter like fairy dust into the lives he touches.
Cheers to the man from the mountain! May he infect others with his innocent engagement.