A few minutes ago, I popped open my twitter feed and read a numbing tweet from Jack Harvey.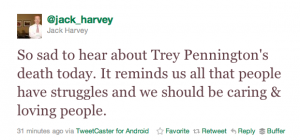 A "Pennington" search confirmed my worst fears; Trey succumbed to the darkest of human conditions–hopelessness. Trey was a man of faith. He was a family man, and if you ever had a conversation with him, you likely had a sense that he was grounded. He was. Depression is not a respecter of education, class, faith, family, fame, or "happiness." It strikes like a viper and speaks worthlessness and desperation directly to the core of those who taste its venom.
When I read Bridget Pilloud's tribute to Trey and personal struggle with depression, I was struck by the simple gesture of her professor that assisted her off the ledge:
She asked me if I was thinking about suicide.

Yes, I said.

I was so depressed that I didn't realize that she was going to try to talk me out of it. I thought she was going to say Go For It, or maybe Where are your poems? I want to publish a chapbook posthumously.

I was wrong.

You're a mother right? She asked.

Yeah, I said, but you know, he'll have his dad, and if I do it now, he won't remember me.

She nodded. She was quiet for a moment and then she said, My mother killed herself when I was 9. She jumped off the balcony of our house. And every day since the day she died, I've wondered what I could have done differently.

I remember looking down at my doc marten mary janes.

Then she said, If you decide to kill yourself, understand that you are dooming your two-year-old to always wonder what was so wrong with him that you chose to kill yourself instead of being his mother.

I thought of my boy. I thought of my mother and how many times I thought I had failed her, and wondered what was so wrong with me.

And I never considered suicide again.  It stopped being an option.
We all hear a little voice from time to time; it's usually no big deal. It might be that we feel like we failed a project, or because of a string of mess-ups, the voice says you are a "failure." We may see that we've gained a few pounds in the mirror, but that voice tells says, "no one will ever love you." These strikes are lies, that's all they are. Eventually after listening to them time and again, the voice builds one on another and says "you have no reason to live." Bridget heard the lies, and fortunately she was able to share her story with someone outside that gave her a different perspective and spoke truth into her life.
We have relationships all around us where the voice is striking. From the outside, it's not always easy to see evidence of it. But our ability to listen and not always fix is the perspective that someone may need to walk off the ledge.
Recently, one of my closest friends moved out of town. For the last five years, our families ate dinner together once a week. He and I regularly had "back porch time" where we would talk about nothing in particular and everything in between. Something about that time kept my pressure release valve open. Without posturing, we would just sit outside and chat…or sometimes just sit outside and listen.
Since his move, the viper would strike a lie here and a lie there in my own mind, and after about a month the internal dialogue began to build one lie on another. Everyone has reasons why we don't want to let anyone into our labyrinth of lies: I'm a man, I'm a father, I'm a mother, I'm a leader, I'm famous, etc., but I found myself subverting the viper's strike until the other day. I had a telephone call with my friend and mentioned one of the lies. Almost immediately, he spoke truth into my situation and it changed my perspective.
We all need a little more truth in our lives:
You are uniquely and wonderfully created.
You are everything to your children despite your screw-ups.
You are everything to your parents despite your screw-ups.
You are important.
You are not a whore.
You are loved.
You are rich.
You can eat the elephant in front of you, one bite at a time.
You are not a failure.
You touch more lives than you'll ever know.
You never know when the opportunity will present itself. It likely will be understated, and if we aren't paying attention, it may just pass by unnoticed.
Hope springs eternal in the human breast;
Man never Is, but always To be blest:
The soul, uneasy and confin'd from home,
Rests and expatiates in a life to come.

-Alexander Pope
May God bless your soul and you find peace, brother Trey.