Occasionally, I have the good fortune of finding tools that truly simplify my life. I waste away the other twenty-some-odd hours of the day playing with the non-productive tools. It is a sick cycle, but there is a balance in there somewhere.
When writing a blog post and taking a few screen captures the captures, file save, upload process can be cumbersome and time consuming. Enter Jing, which is available for Windows or Mac.
1. Enter a keyboard shortcut to start the screen clipping service. For the mac, I am using Command+Shift+1. The crosshairs appear, and you can select portions of the screen, whole windows, or the whole desktop – basic screen capture stuff.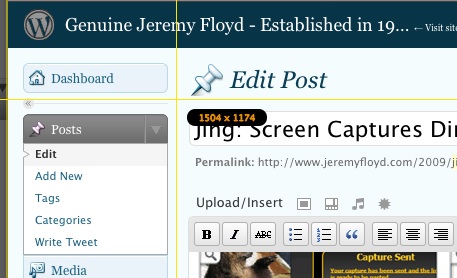 2. After selecting the image, you can add some basic markup (lines or text) to the image through the tools panel.
3. This is where the magic happens. After naming the file, you can upload to Flickr, or to your FTP location for insertion into your post. HOLY COW–You have just saved so much time!
Yes there may be other screen capture to FTP programs out there, like GrabUp, but Jing also includes the ability to create screencasts and post to YouTube, Screencast.com or import into Camtasia for editing.
You can download a free version of the software here (mac or PC). Or you can "go pro" for $14.95/year, which enables more options for image and video formats.