Using Google Hangout is a great resource for video conferencing. For months, I have been using it in my digital marketing class for two primary reasons: (1) generally I like the interface and the way that (2) the On Air functionality allows you to stream the hangout to YouTube for other users to watch at the time or to store for future use.
Google Hangout allows:
10 simultaneous connections.
On Air broadcasts your hangout to unlimited connections on YouTube
Join from your Computer or Mobile device
Getting started with Google Hangout
1. Make sure you have installed the Google Hangout plugin if you are using a computer by click on the link or picture below.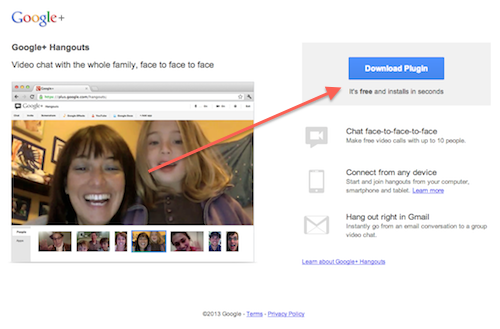 2. After you have installed the plugin login to your Google+ page.
3. If you are starting the hangout click on the hangout button in the top right of your screen.
If you are waiting for the hangout to start, a messenger window will popup inviting you to join the hangout (click the "Join Hangout" button):
If you are on a mobile device, it may look like this:
4. If you are starting the Hangout, you will want to (1) Add the individuals names or circles that you are inviting to the circle (2) select whether you are going to broadcast this On Air, and then start the Hang out. (you may optionally name the hangout)
That's pretty much it! Enjoy your Hangout, it's a great easy and cost effective way to collaborate.
If you have any questions, leave a comment below.